Diamonds World Tour – Rihview
Hang on for a minute...we're trying to find some more stories you might like.
Rihanna brought her Diamonds World Tour to Staples Center in Los Angeles on April 8, 2013. Over a two hour period I sat in the packed audience and watched as she dazzled her fans with performances of her best hits. For her fourth tour – The Diamonds World Tour was in support of her latest album, Unapologetic. Though the album featured new Rihanna hits such as party anthem "Pour it Up" and slow ballad  "Diamonds" fans were in luck. As a treat to all of the Rihanna fans who supported her during the beginning the span of her career, Rihanna delivered by performing songs such as "Umbrella" and "Please Don't Stop The Music". As I sat in the audience, I watched as the pop star captivated her fans by performing the show in six different "acts". Each act featured a different costume and set change. During the opening act, the lights began to fade and the curtain began to come up, fans of the #RihannaNavy (what she calls her biggest fans) starred while watching the Pop Star take center stage. The show opened with to power ballad "Mother Mary"  to a dark, and intimate light that allowed the audience to focus on the star of the show. Afterward, Rihanna shouted out her LA fans by playing the song dedicated to her new home city, "Pour It Up". Over the duration of two hours Rihanna gave her fans a chance to get up close and personal.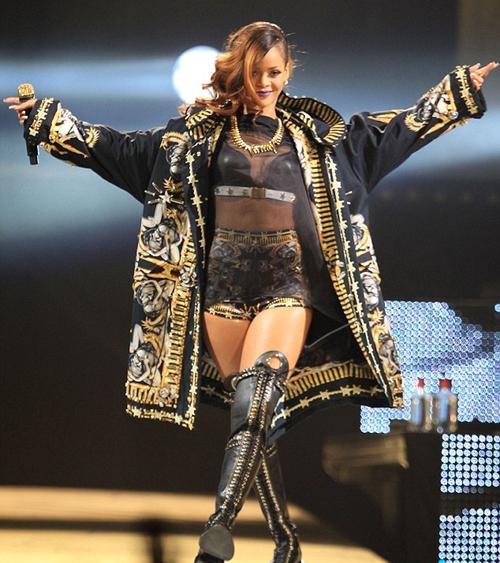 In my opinion, the best acts of the night were hands down "What Now" and her number 1 single, "We Found Love". Vocally and Visually, Rihanna delivered an amazing performance that kept the crowd interested. With her costumes, her dancing, and her carefree attitude, Rihanna proved to fans and critics that there's more incorporated into being a performer. With the success of the Diamonds World Tour, fans have no idea what to expect for her next tour. Since Rihanna usually releases a new album every year, I can almost guarentee that the next Rihanna tour will be LOUDER and better than ever.