CHS student-producers Wex. and Bambam Beatz find their rhythm
Grecia Fuentes and Carmel Abramov - Staff Writers, Sophie Cohan and Landon Ferris
January 3, 2018
Wex.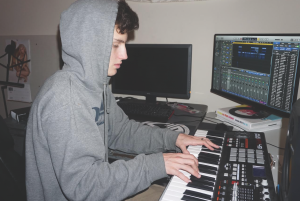 Since last year, senior Walker Koch has been known by his stage name, "Wex." He bought a microphone, connected it to his laptop with recording programs and started to create his own music. His journey started off with simple beats and virtual studio software that seemed unknown to him. Now, he is making a name for himself.
Since age seven, Koch knew that he wanted to work toward a career in music. Nothing made him feel more alive than listening to Michael Jackson and Chris Brown. Koch was drawn to the catchy beats, the dance moves and the wide vocal ranges of his favorite pop artists who still inspire him.
"I felt very connected to all the music I listened to when I was a younger kid," said Koch. "The music never failed to encourage my passion for singing and then later creating music."
Koch has recently DJed at small events around the community and even performed live at school for Cabaret. He also produces rap music with his friends for fun. However, Koch is not interested in DJing professionally. Instead, he wants to enter the music industry as a recording artist. Most days of the week, Koch comes home and spends hours making new beats and working on his original songs. When his songs are ready, he posts them onto his SoundCloud. He plans to eventually upload his tracks onto Spotify and Apple Music.
"I hope to make it big," said Koch. "My biggest dream is to perform at the Grammy's and to be awarded one."
Koch released his first project, entitled Lustate, in late November and has already received loads of positive feedback from friends and family. He hopes to stay in LA for college and plans to work in the city to further his passion. To Koch, there is no better place to get his start than the entertainment capital of the world.
Bambam Beatz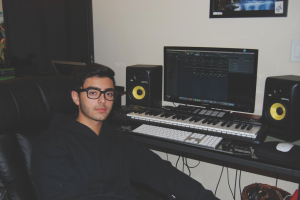 At the age of seven, senior Sam Mikhak, also known as Bambam Beatz, fell in love with music and began taking guitar lessons. In middle school, he joined Wind Ensemble and learned how to play the saxophone. As his passion for music continued to grow, he discovered electronic dance music (EDM) and started DJing parties and events with his turntables. Mikhak created his own sound and has been producing music for about three years. He began uploading his music on SoundCloud to put his name out there and build connections with other artists around the world. Locally, Mikhak frequently collaborates with his good friend Cory Erving in addition to other musicians at CHS. Sam was struggling to think of a producer name to go by, but then got an idea from home.
"I was just sitting in my room trying to figure out what I️ should make my producer name," said Mikhak. "Then my mom called me out of my room and said 'bambam can you get me…' and I really liked how it sounded so I just went with it."
Mikhak stopped posting his music on SoundCloud because it puts him at a risk of getting his beats stolen. Instead, he is working to obtain legal placements so he can release his music without fear of losing credit for his work.
"I've come to the realization that people don't like to just listen to a beat, and that's why I think producers don't get enough credit when it comes to hit songs that are released," said Mikhak. "But a song would be nothing if it weren't for the beat."
Mikhak's dream is to someday work with artists Travis Scott, Drake, Young Thug and Murda Beatz. He discovered Travis Scott's album Rodeo when he first started creating his own beats, which inspired him to expand his genres and gear toward hip-hop. Mikhak is not entirely sure what path he will take in the near future, but he is certain that music will be a part of it. •